BMW has unleashed a trio of exiting cars under the M8 line-up at the 2019 Frankfurt Motor Show. Prepare your wallets for the 2020 BMW M8 Coupe, Convertible, and Competition.
---
If you loved the BMW M5 for its twin-turbocharged 4.4-liter V8 engine, but was looking forward to seeing it under the long hood of a two-door GT car, it's time to celebrate as the wish has been granted. The 2019 Frankfurt Motor Show witnessed the debut of the BMW M8 in coupe, convertible, and the more potent Competition variants.
In the coupe and convertible, the powertrain churns out 600 hp of power and 553 lb-ft of torque. Apply the Competition trim to either of those body styles and you become the proud and frequently-grinning owner of a 617 hp GT car.
In all trims and body styles, power is channeled through an 8-speed Steptronic gearbox to all four wheels via xDrive. With a top speed of 190 mph on ticking the optional M Driver's Package, the new M8 is one hell of a fast GT car. BMW does restrict it electronically at 155 mph otherwise. In more performance news, 0-60 mph comes up in 3.1 seconds in the coupe, one-tenth of a second slower in the convertible, and one-tenth of a second quicker in the Competition versions.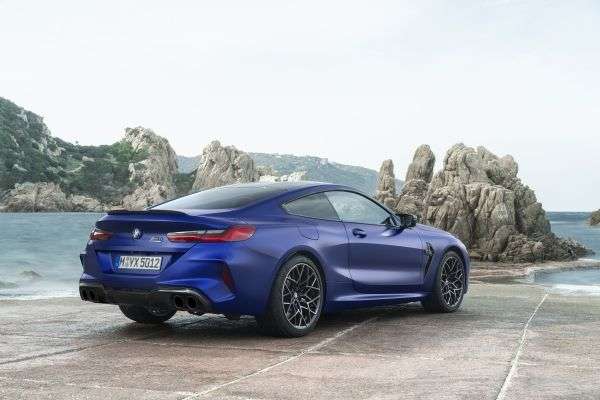 To stop something like that, BMW has thrown in 15.5-inch front brakes with six-piston calipers as standard fare. Should you need more bite at your command, optional 15.75-inch carbon ceramic brakes are available. To sweeten the dessert further, the 2020 M8 comes with a lot of onboard tech to customize the driving experience as per the driver's tastes – right from transmission modes to selectable flaps in the exhaust to pick what kind of noise you'd like the car to make.
The exterior gets some special M-spec treatment with aggressive front and rear styling touches. An optional M Carbon Exterior Package can be picked to satisfy your need for carbon-fiber, if you dig that kind of stuff.
Pricing starts at $133,000 for the BMW M8 Coupe, $142,500 for the BMW M8 Convertible. The Competition versions will set you back by $146,000 and $155,500 respectively.
Source:BMW